Vegetables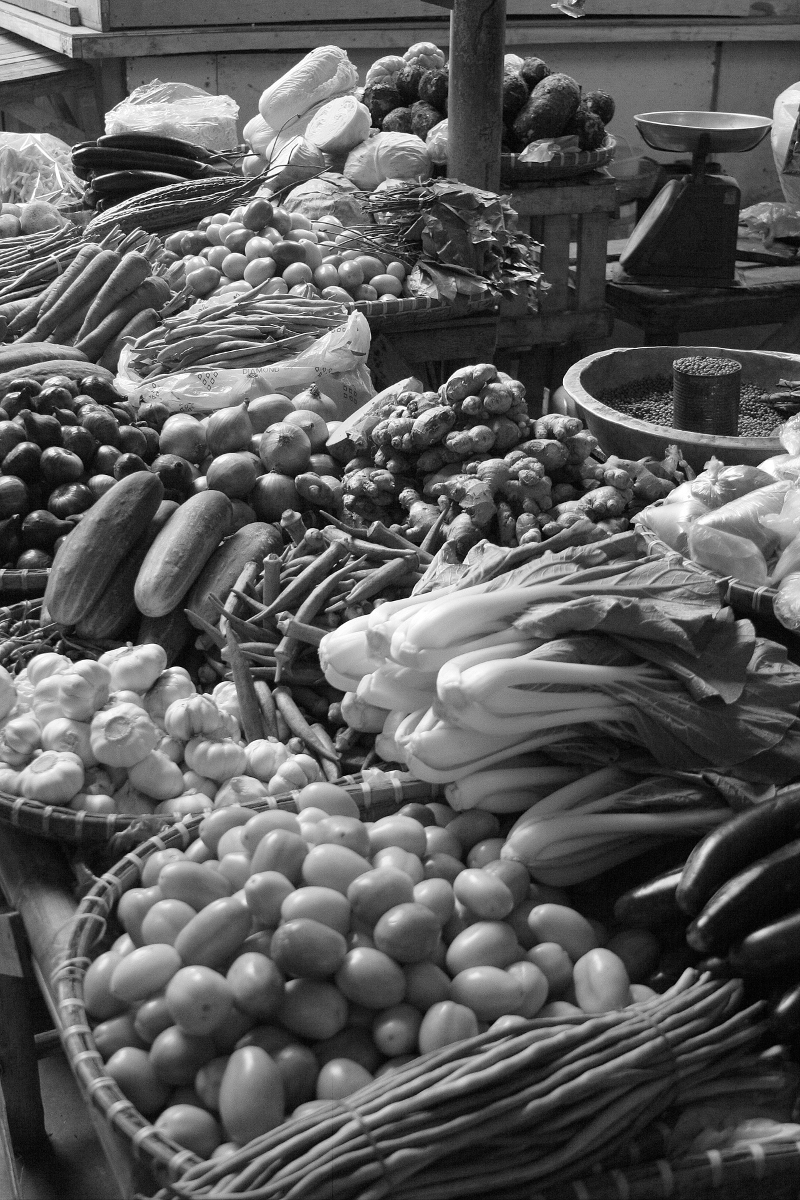 ---
| | |
| --- | --- |
| Onioned potatoes | Lou Emma Smith |

6 medium potatoes
1 envelope onion soup mix
1/4 cup soft margarine

Scrub the potatoes but do not peel them. Cut each one into 2-3 lengthwise slices. Blend the margarine and soup mix. Spread it on the slices, then re-assemble the potatoes. Wrap each potato in a square of heavy-duty aluminum foil with the ends overlapping. Bake it until it is done, 45-60 minutes. This recipe was designed for outdoor cooking and is as easy as baking in the oven.
| | |
| --- | --- |
| Stuffed green peppers | Lisa Lenon |

6 large green peppers
1 pound hamburger
1 tablespoon chopped onion
1 teaspoon salt
1 cup cooked rice
15 ounces tomato sauce

Cut a thin slice from the stem, remove the seeds, and wash the peppers. Cook and stir the hamburger and onion in a skillet until the hamburger is brown, then drain it. Stir in the salt, rice, and tomato sauce. Stuff each pepper with the hamburger mixture. Cover it and cook it in a 350 oven for forty five minutes. Uncover it and cook for fifteen minutes longer.
| | |
| --- | --- |
| Mexican baked beans | Pat Nichols |

2 chopped green peppers, do not overcook
1 pound pinto beans, cooked with ham
2 sliced or chopped onions
1/4 cup chili powder
1 can tomatoes
1 teaspoon cumin

Add to the beans and let it simmer. I usually do this in a crock pot.
| | |
| --- | --- |
| Pokeweed greens | Zelma Leila Lenon Submitted by Steve McGrew |
Polk weed
Cooking oil
Water
Vinegar (optional)

You can t buy polk in a store but it s probably growing wild in your yard. Use only the leaves of the polk plant, the smaller the leaves, the better. Boil them for half an hour or longer and drain the water. Note that this is absolutely necessary to prevent a stomach ache or worse; the plants have a toxin that boiling neutralizes.

Pour about 1/4 to 1/2 inch of oil in a skillet and add the polk. Cook it for fifteen minutes to half an hour. Remove the leaves from the oil and drain them.

Sprinkled with vinegar they taste very similar to spinach. The scientific name is Phytolacca Americana. Do not eat this if you are pregnant or breast feeding!
| | |
| --- | --- |
| Vegetarian dinner in a dish | Julie Karas Abraham |

1 cup natural brown rice
20 ounces frozen chopped spinach
2 tablespoons butter or margarine
1/2 cup chopped onion
1/2 cup chopped green pepper
1 clove minced garlic
2 lightly beaten eggs
1 cup unflavored yogurt
1/2 teaspoon nutmeg
1 cup chopped cashews

Cook the rice according to the package instructions and set it aside. Cook the spinach according to the package instructions*. Drain it well and set it aside.

Melt the butter or margarine in a small skillet. Add the onion, green pepper and garlic. Cook it until it s soft, about five minutes, and add it to the cooked rice. In a medium bowl, combine the eggs, nutmeg, and reserved spinach and stir it until it is well combined.

In a 1 1/2 quart casserole or utility dish spread half of the rice mixture. Cover it with half of the spinach mixture. Top it with half of the cheese, and reserve the remaining cheese. Repeat the rice and spinach layers only. Cover it tightly and bake it at 350 for twenty five minutes. Uncover it, sprinkle it with the reserved cheese and cashews. Bake it uncovered for 5 10 minutes longer until it is lightly brown on top. Makes six servings.

*Editor s note: If it s fresh spinach from your garden, just saut it. It shouldn t need oil, especially if you use one of the new non-stick skillets.

It is an annual plant (rarely biennial) growing as tall as 1 foot. Spinach may survive over winter in temperate regions. The leaves are alternate, simple, ovate to triangular, and very variable in size from about 1 12 inches long.
| | |
| --- | --- |
| New England boiled dinner | Ann Lenon |

5-7 pounds smoked ham or shoulder
5 pared and quartered potatoes
4 carrots, peeled and cut into 3 inch pieces
1 head cabbage, quartered

In a large pot, add enough water to cover the ham. Bring it to a boil for five minutes. Discard the water to get rid of the salt and add fresh water to cover the ham. Cook it until it is fork-tender, about thirty minutes per pound. When it has cooked, remove the ham and reserve the stock. Add the vegetables to the stock and cook them until they are tender.
| | |
| --- | --- |
| Vegetables | Sharon Konsavage Daugard |

1 package broccoli
1 package cauliflower
1 can whole kernel corn
4 ounces mushrooms

Thaw and cook it. Add:
1 can cream of celery soup
1 can creamed corn
2 cups shredded Swiss cheese

Mix it and bake at 350 for fifteen minutes. Optional: you can use bread crumbs for topping.

Editor s note: Here s another of those recipes that are silent about portion sizes; what size package of broccoli and cauliflower? I ve seen all different sizes.

My guess is the can of corn is a #303, so if you have corn, broccoli, and cauliflower in your garden, 2 1/2 cups of each is probably close; this recipe may take a little experimenting to get right.
| | |
| --- | --- |
| Zucchini frittata | Marlene Morgan |

3 cups thinly sliced zucchini
1/2 cup chopped green onions
4 eggs
1/2 cup oil
1/2 cup grated cheese
1/2 teaspoon salt and pepper
3/4 cup flour
1 1/2 teaspoons baking powder
1/2 teaspoon salt
2 1/2 tablespoons oil or melted butter
2 teaspoons chopped parsley and garlic

Mix the flour, baking powder, salt, and butter and set it aside.

Beat the eggs, then add them to all the ingredients, mixing it well. Pour it into an 11 3/4x7 1/2 x1 3/4 inch two quart Pyrex dish. Bake it at 350 for thirty minutes. Let it cool and cut it into squares to serve.

Editor s note: Frittata is an egg-based Italian dish similar to an omelette or crustless quiche or scrambled eggs, enriched with additional ingredients such as meats, cheeses, vegetables or pasta. The word frittata is Italian and roughly translates to fried . The Italian word frittata derives from friggere that roughly means fried . This was originally a general term for cooking eggs in a skillet, anywhere on the spectrum from fried egg, through conventional omelette, to an Italian version of the Spanish tortilla de patatas, made with fried potato. Outside Italy, frittata was seen as equivalent to omelette until at least the middle 1950s.

In the last fifty years, frittata has become a term for a distinct variation that Delia Smith describes as Italy s version of an open-face omelette . There is always at least one optional ingredient. The mixture is cooked over a very low heat, more slowly than an omelette, for at least five minutes.
| | |
| --- | --- |
| Polish style sauerkraut | Vicki Bongiorno Konsavage |

1 can sauerkraut
1 small head chopped cabbage
1 onion
1 chopped and peeled apple
1/2 teaspoon salt
1/4 teaspoon pepper
2 tablespoons sugar
1 cup water
3 slices bacon
2 tablespoons flour

Wash the kraut and drain it. Bake it covered for an hour at 325 . Combine the bacon and flour and bake it for fifteen more minutes at the end.
| | |
| --- | --- |
| Southern corn pudding | Bonnie Russell (Mrs. Howard Lee) |
4 rounded teaspoons sugar
4 tablespoons melted butter
2 cups whole kernel corn
8 tablespoons flour
1 teaspoon salt
4 well beaten eggs
2 pints milk

Stir the flour, salt, sugar, and butter into the corn. Add the well-beaten eggs to the milk and stir it into the corn. Place it in a 1 1/2 quart shallow pan and bake it for 40-45 minutes at 325 . Stir it from the bottom three times during baking.

Editor s note: In the United Kingdom and some of the Commonwealth countries, the word pudding can be used to describe both sweet and savory dishes. The word pudding is believed to come from the French boudin.
| | |
| --- | --- |
| Hearty green beans | Carolyn Russell Barnes |
In a large saucepan fry 4-6 slices of thick bacon (do not cook it crisp) and add one medium white sliced onion. Cook it until it is soft. Add broken and washed green beans, with just enough water to keep from cooking dry. Salt it to taste. When the beans are done to your taste, stir in two tablespoons of barbecue sauce, smoked flavor preferred.

This is the way my dad, Ed Russell, taught me to cook green beans that all my kids loved.
| | |
| --- | --- |
| Baked green beans | Rosella Guill Vaughn Submitted by Zona Bishop Lenon |
3 cans green beans
1 can cream of mushroom soup
1 cup diced soft cheese, preferably Velveeta

Cook the green beans with ham until most of the liquid has cooked out. Add the soup and cheese and mix it well. Place it in a 9x13 inch baking dish and cover it with one can of fried onion rings. Bake it uncovered in a 350 oven until the onion rings are browned.

Editor s note: If you have fresh green beans from your garden or the farmers market, assuming #303 cans you need about seven or eight cups of green beans. Check your soup can against the can size chart earlier in the book and figure it from there.

In the past, bean pods often contained a string , a hard fibrous strand running the length of the pod. This was removed before cooking, or made edible by cutting the pod into short segments. Modern, commercially grown green bean varieties lack strings; the ones with strings are now called string beans .

Green beans are eaten around the world, and are marketed canned, frozen, and fresh.
| | |
| --- | --- |
| Western zucchini | Melanie E. Karas Bell |

1/4 cup bacon drippings
1/2 pound sliced zucchini, 1/4 inch slices
10 ounces fresh or frozen Italian green beans
1 sliced small onion
1 small clove crushed garlic
1/4 cup water
1 tablespoon soy sauce
2 tablespoons toasted slivered almonds

Heat the bacon drippings in a skillet. Add the zucchini, beans, onion, and garlic, and toss it. Add the water, cover it, and cook it until it is tender, about ten minutes. Add soy sauce and top it with almonds.
| | |
| --- | --- |
| Sweet potatoes | Shirley Reeves |
Boil, peel, and cut the sweet potatoes and place them in a casserole. Mix in a small saucepan:
1/2 cup granulated white sugar
1 tablespoon cornstarch
dash of salt
1 cup water

Cook it until it is clear and thick, about fifteen minutes, while stirring it. Remove it from the heat and stir in 1/4 cup of butter and pour it over the sweet potatoes. Bake it for thirty minutes at 350 . It can be prepared in advance.

Editor s note: The sweet potato is only distantly related to the potato (Solanum tuberosum) and does not belong to the nightshade family, Solanaceae, but both families belong to the same taxonomic order, the Solanales. The scientific name is Ipomoea batatas.
| | |
| --- | --- |
| Broccoli deluxe | Eileen Bonlgiorno Karas |

1 ten ounce can cream of chicken soup
3/4 cup herb seasoning stuffing mix
20 ounces fresh or frozen broccoli
2 tablespoons butter or margarine
1 tablespoon flour
1/2 cup sour cream
1/4 cup grated carrot
1 tablespoon green onion
1/4 teaspoon salt
1/8 teaspoon pepper

Cook the broccoli. If you are using frozen broccoli, use the package directions. Drain and blend together the soup and flour. Add the sour cream, carrots, salt, and pepper. Stir in the broccoli and turn it into a two quart casserole. Combine the stuffing mix and butter or margarine and sprinkle it around the edge of the baking dish. Bake at 350 for 30-35 minutes or until hot. Makes eight servings.

Editor s note: You can cook fresh or frozen broccoli in a microwave oven. Twenty ounces should take five or six minutes, or more depending on your microwave s power and amount of broccoli. Just watch it as it cooks.
| | |
| --- | --- |
| Stuffed jalape o peppers | Mary Jacobson Nichols |
Under cold running water remove the stem, split the side of the pepper and remove the seeds. Stuff with grated longhorn cheese.

Editor s note: Huh? All of the stuffed jalape os I ve eaten have been cooked. I wonder if there s an error...

They are sometimes called armadillo eggs from at least 1972 in Texas.
| | |
| --- | --- |
| Spinach Souffl | Marie Lenon Kelly |

3/4 pound (3 cups) washed raw spinach
1/4 cup butter or margarine
1/3 cup flour
1 cup milk
3/4 teaspoon salt
dash of pepper
small onion, quartered
2-3 dashes nutmeg
4 separated eggs

Put the spinach, butter, flour, milk, salt, pepper, onion, nutmeg, and egg yolks into a blender. Blend it on high until the spinach is chopped fine and the other ingredients are completely mixed. Beat the egg whites stiff.

Pour the spinach mixture into a greased six cup casserole or Souffl dish. Fold in the beaten egg whites and bake at 325 for 50-60 minutes. Serve it immediately.

Editor s note: Raw spinach is 91% water, 4% carbohydrates, 3% protein, and contains negligible fat. Spinach has a high nutritional value, especially when fresh, frozen, steamed, or quickly boiled. It is a rich source of vitamin A, vitamin C, vitamin K, magnesium, manganese, and folate. Spinach is a good source of the B vitamins riboflavin and vitamin B6, vitamin E, calcium, potassium, and dietary fiber.

Spinach contains iron absorption-inhibiting substances, including high levels of oxalate, which can bind to the iron to form ferrous oxalate and render much of the iron in spinach unusable by the body. In addition to preventing absorption and use, high levels of oxalates remove iron from the body.

A long-lasting persistent myth is that spinach contains significantly more iron than other green vegetables. The source behind the myth was a study from the 1930s which misplaced a decimal point and made it appear as if spinach contained ten times as much iron as it really did.
| | |
| --- | --- |
| Sneaky vegetables | Marie Lenon Kelly |

1 medium sized eggplant, peeled and cut in strips
1 large onion, peeled and sliced
2 small tender sliced zucchini
1 large green tomato
1 large red tomato
1 cup mushrooms
1 cup celery (1/2 inch pieces)
1 cup bread crumbs
6 strips of bacon cut in small pieces (1x1 1/2 inches)
6 slices of American cheese or 6 ounces sharp cheddar, cut In slivers

Use two oval greased casseroles. Layer the vegetables, divided into the two dishes. Cut the cheese in strips or small pieces and place them over the vegetables. Cover it with bread crumbs and place bacon pieces over it all. Use no added salt. Cover it with foil or a glass cover and bake it at 350 for 40-45 minutes, or until done to your taste.

Editor s note: In everyday usage, vegetables are certain parts of plants that are consumed by humans as food as part of a savory meal. Originally, the traditional term (still commonly used in biology) included the flowers, fruit, stems, leaves, roots, tubers, bark, seeds, and all other plant matter, although modern-day culinary usage of the term vegetable may exclude food derived from plants such as fruits, nuts, and cereal grains, but include seeds such as pulses; the term vegetable is somewhat arbitrary, and can be largely defined through culinary and cultural tradition.

Originally, vegetables were collected from the wild by hunter-gatherers and entered cultivation in several parts of the world, probably during the period 10,000 BC to 7,000 BC, when a new agricultural way of life developed. At first, plants which grew locally would have been cultivated, but as time went on, trade brought exotic crops from elsewhere.
| | |
| --- | --- |
| Au gratin potato bake | Linda Nichols Kasper |

2 pounds frozen hash brown potatoes, shredded and thawed
2 cans cream of potato soup
chopped onion to taste
2/3 cup milk to dilute soup
1 large carton sour cream
2 cups shredded cheddar cheese
Parmesan cheese
paprika on top (optional)

Mix all of the ingredients well and place them in a 9x13 inch baking dish. Bake it in a 350 oven until it s bubbly and brown. Sprinkle Parmesan and paprika on top during the last few minutes of baking, if desired.
| | |
| --- | --- |
| Baked eggplant | Elizabeth Russell Vrana |
Peel one large eggplant and cube and coat it well with flour. Brown it in oil and drain it on a paper towel and put it in a small baking dish. Pour one small can of tomato sauce over the browned eggplant. Grate the cheddar cheese and sprinkle it over the top. Place it in a medium hot oven and heat it until the cheese melts.