Appetizers, Pickles, and Relish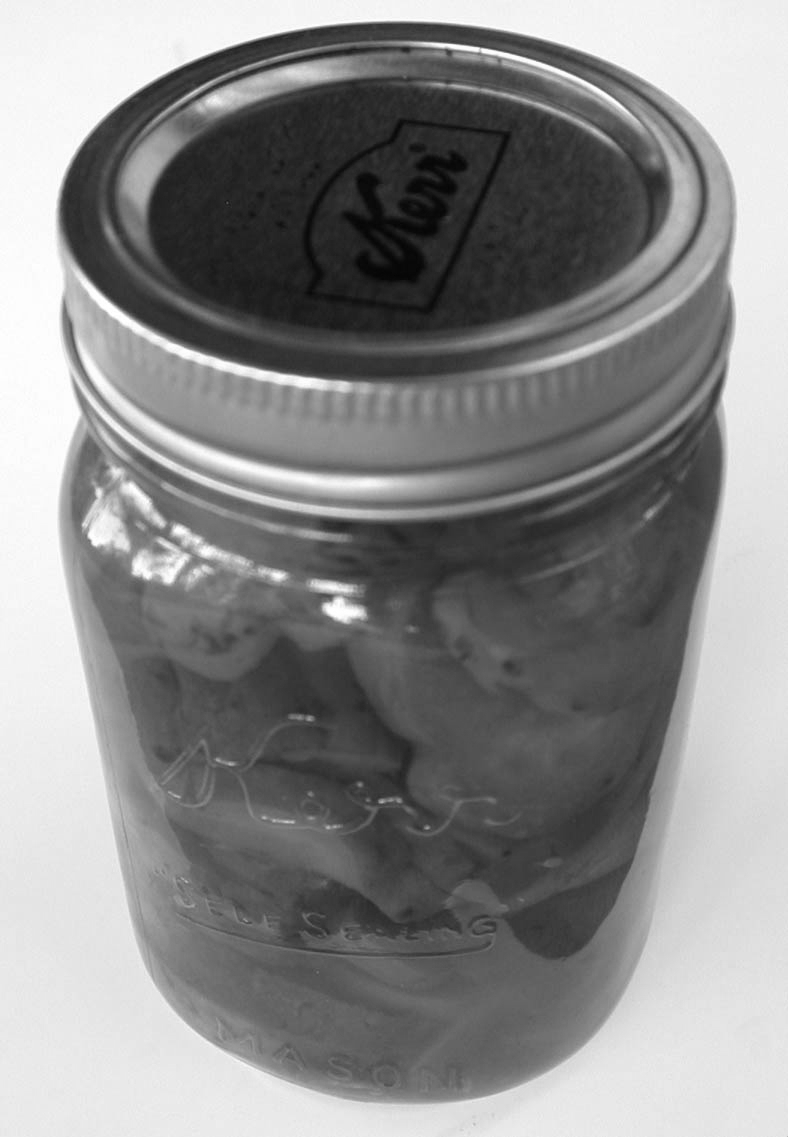 ---
| | |
| --- | --- |
| Ham and cheese ball | Gayle Barnes Walker |

2 teaspoons Worcestershire sauce
16 ounces cream cheese
1 teaspoon lemon juice
1 teaspoon dry mustard
1/2 teaspoon paprika
1/4 teaspoon garlic powder
1/4 teaspoon salt
2 small cans deviled ham
2 teaspoons chopped parsley
1/2 pound shredded sharp cheddar
2 teaspoons chopped and drained pimento

Soften the cream cheese and mix in the cheddar and the next eight ingredients, then stir in the pimento and parsley. Chill it until it s firm enough to handle. Shape it in balls or logs, and roll it in nuts and/or parsley. Wrap in it cling-wrap and refrigerate it.
| | |
| --- | --- |
| Shrimp Spread | Eileen Bongiorno Karas |
In a large bowl, combine:
8 ounces softened cream cheese
1/2 cup sour cream
1 small minced onion
2 teaspoons Worcestershire sauce
dash of garlic powder
1 teaspoon lemon juice
2 small cans baby shrimp, drained
small amount of ketchup for color

Mix it well and let it stand for twenty four hours in a covered container in the refrigerator.
| | |
| --- | --- |
| Braunschweiger snowball salad | Shirley Reeves |
Mash an eight ounce package of cream cheese at room temperature. Mix in enough mayonnaise to spread it. Set it aside. Blend together thoroughly:
1 pound Braunschweiger
1/2 cup chili sauce
2 teaspoons horseradish

Mold the mixture into a ball and spread cream cheese over it, then refrigerate it. Spread it on your favorite crackers.
| | |
| --- | --- |
| My Favorite Cheese Ball | Pat Nichols |

16 ounces cream cheese
1 small can crushed and drained pineapple
1 cup chopped pecans
2 tablespoons chopped onion
1 tablespoon seasoned salt

Mix, chill, and shape it into two balls.
| | |
| --- | --- |
| Vegetable Dip | Julie Karas Abraham |

1/2 package dry Italian dressing mix
1 cup mayonnaise
1 cup sour cream
chives

Mix it together thoroughly and chill it. Serve it with raw vegetables.
| | |
| --- | --- |
| Crab Dip | Mary Jacobson Nichols |

1 can crab meat
1 large carton sour cream
onions
chopped sweet pickle
seasoned salt
seasoned pepper
dash of monosodium glutamate (often labeled flavor enhancer )*

Mix it well.

*Editor s note: Monosodium glutamate (MSG, also known as sodium glutamate) is the sodium salt of glutamic acid, one of the most abundant naturally occurring non-essential amino acids. Monosodium glutamate is found naturally in tomatoes, cheese, and other foods.

Glutamic acid was discovered and identified in 1866 by the German chemist Karl Heinrich Ritthausen, who treated wheat gluten (for which it was named) with sulfuric acid.

Kikunae Ikeda of Tokyo Imperial University isolated glutamic acid as a taste substance in 1908 from the seaweed Laminaria japonica (kombu) by aqueous extraction and crystallization, calling its taste umami. Ikeda noticed that dashi, the Japanese broth of katsuobushi and kombu, had a unique taste not yet scientifically described (not sweet, salty, sour, or bitter). To verify that ionized glutamate was responsible for umami, he studied the taste properties of glutamate salts: calcium, potassium, ammonium, and magnesium glutamate. All these salts elicited umami and a metallic taste due to the other minerals. Of them, sodium glutamate was the most soluble, most palatable, and easiest to crystallize. Ikeda submitted a patent to produce MSG; the Suzuki brothers began commercial production of MSG in 1909.

Some people are sensitive to MSG. Do not serve it to anyone with mental health problems, especially if they are bipolar or have certain forms of schizophrenia.
| | |
| --- | --- |
| Water chestnut canap s | Melanie Bell |

2 cans water chestnuts
1 pound bacon (precooked a little)

Wrap each water chestnut with bacon and secure it with a toothpick. Mix:
1/2 cup brown sugar
1/4 cup chili sauce
1/4 cup salad dressing

Pour it over the water chestnuts and bake it in a 350 oven for forty five minutes.
| | |
| --- | --- |
| Gallon jar pickles | Louemma Russell Smith |

4 cups cider vinegar
1/2 cup pickling salt
1 1/2 teaspoons mustard seed
3 large onions, sliced thin
4 cups sugar
1 1/8 teaspoons turmeric
1 1/3 teaspoons celery seed
cucumbers

You need enough cucumbers, sliced thin, to fill a gallon jar. Mix the first six ingredients and stir them well. Tightly pack the onions and cucumbers into a jar. Cover it with brine made of the first six ingredients and stir it well. Tightly screw on the lid. Place it upside down in the refrigerator for six days, then turn it right side up. Store it in the refrigerator. They will actually keep for nine months! That is, unless you eat them all before that! This recipe was given to me by my aunt, Bernice Lenon Nichols.
1 small can jalape o peppers
1 tablespoon or more butter
French bread, loaf, or rolls, torn into bite-size chunks
1 brick white Monterrey Jack or longhorn cheese, cut into 1-2 inch squares

Drain the peppers and saut them in butter in the bottom of a casserole dish. Use very low heat so the butter doesn t burn. Add the cheese a chunk at a time, so that it melts quickly. Stir it frequently. When the cheese is all melted, it s ready to serve in the dish. Put the bread chunks in a large basket. Serve guests forks and napkins. Vary the amount of peppers on how spicy you like food.

Editor s note: If you grow your own jalape os as I have done, I wonder how many peppers to use? I would assume a small can would be a #1 picnic.
Guacamole
Liz Piper
submitted by Louemma Smith
2 tablespoons picante sauce
1 teaspoon lemon juice
1 large ripe peeled, seeded, and mashed avocado
1/4 teaspoon salt

Combine all the ingredients and mix them well. Makes about one cup.
| | |
| --- | --- |
| Mexicali Dip | Gayle Barnes Walker |

8 ounces cottage cheese
1 teaspoon chili powder
1/4 teaspoon salt
1/4 teaspoon garlic powder
dash of white pepper
1 tablespoon lemon juice

Blend all the ingredients in a blender until it s smooth. Refrigerate it for at least four hours for the flavors to blend. Serve it with raw veggies.
| | |
| --- | --- |
| Dill dip | Elizabeth Russell Vrana |

1 cup mayonnaise
1 cup sour cream

Sprinkle in some garlic salt and some crushed dill weed. Let it stand for two hours in the refrigerator. Serve it with the following raw vegetables that have been cleaned and cut in pieces: broccoli, cucumber, zucchini, celery, peppers.
| | |
| --- | --- |
| Cheese Log | Terri Russell Rosene |

1 large package cream cheese
2 pounds grated cheddar cheese
1/2 cup chopped pecans
1/2 cup chili powder
1/2 cup garlic powder

Mix the cheese and pecans and form it into logs as desired. Roll the logs in the chili and garlic powder mixture. Serve it with crackers.
| | |
| --- | --- |
| Dried beef dip | Kim Ebeling Carter |

3 ounces softened cream cheese
1/4 cup margarine
1 teaspoon horseradish
1 teaspoon grated or minced onion
2 teaspoons lemon juice
3 ounces dried beef cut very fine

Mix it well and refrigerate it . Very good for chips, your favorite crackers, or vegetables.
| | |
| --- | --- |
| Fruit n dip | Maxine Smith Mann |

1 bunch white seedless grapes
1 bunch dark grapes, cut in half and seeds removed
2 cups pineapple cut in chunks
2 firm ripe bananas, peeled and cut in bite sized pieces
2 large red plums
2 red apples and 2 yellow apples, sliced but not peeled
2 apricots and 2 peaches, seeded and sliced
2 oranges, peeled and separated
1 quart large strawberries, cut in halves or quarters
1 pint Bing cherries, with stems left on if possible
1 small cantaloupe, cut in pieces or balls
2 cups watermelon, cut in chunks or in balls

Wash, peel, and slice all fresh fruits in desired pieces and arrange them in a large tray. Serve them with a large bowl of dip in the center of the tray. For the dip:
1 large package Philadelphia cream cheese
2 jars marshmallow cr me

For a colorful and more flavorful dip, add a small package of cherry, strawberry, or raspberry gelatin and mix it well. A tablespoon of mayonnaise can be added for a tangy flavor. It is delicious with club crackers also.
| | |
| --- | --- |
| Deviled egg dip | Kent J. Alstat |

8 hard boiled eggs, chopped
3 tablespoons mayonnaise
1/4 cup picnic style mustard
1 cup milk
1/4 cup chopped tomato
dash of red pepper
2 tablespoons minced green onion
1/4 tablespoon salt or salt to taste

Combine the eggs, mayonnaise, mustard, milk, tomato, salt, red pepper, and onion in a blender and blend it well. Chill it in the refrigerator overnight. Place it in the center of a large plate or platter and surround the bowl w1th cleaned, cut to bite size, raw vegetables and potato chips.

Makes about two cups of dip, or 8-10 servings.
1 can red salmon
8 ounces cream cheese
1 tablespoon lemon juice
2 tablespoons grated onion
1 teaspoon horseradish
1/4 teaspoon salt
1 teaspoon liquid smoke
1/2 cup chopped walnuts

Mix, chill and shape it in rolls, then roll it in 1/2 cup of walnuts and three tablespoons of snipped parsley. This freezes very well but should be thawed completely before serving with party crackers.
| | |
| --- | --- |
| Cheese Puffs | Melanie Karas Bell |

1 cup mayonnaise
2 teaspoons Worcestershire sauce
6-9 slices crisp fried bacon
1 small chopped onion
pepper to taste
3 ounces chopped, silvered almonds
1/2 pound grated sharp cheddar cheese
party loaf bread (or frozen loaf of bread with crust removed)

Freeze it on a cookie sheet. After it is frozen, store it in a plastic bag. Bake it (frozen) at 400 for ten minutes. Spread it generously on the bread.
| | |
| --- | --- |
| Zucchini relish | Gladys Russell Morgan |

10 cups coarsely ground zucchini
3 large coarsely ground onions
1 coarsely ground hot pepper

Stir in five tablespoons of salt and let it stand overnight. The following morning, rinse and drain it and add the following:
2 1/4 cups vinegar
4-5 cups sugar
1 can red pimento
1 chopped green pepper
1 teaspoon black pepper
1 teaspoon nutmeg
1 teaspoon turmeric
1 teaspoon dry mustard
2 teaspoons celery seed

Combine the ingredients in a large pan, bring it to a boil, and simmer it for four minutes. Fill sterilized jars and seal them.
| | |
| --- | --- |
| French Onion Soup | Bonnie Lou Wyatt |

thinly sliced white onions
2 teaspoons butter or drippings

Brown the onions in butter or drippings. As this browns, stir it and get a deep pan ready and put one beef bullion cube per one cup of hot water in it; this amount depends on how much soup broth you want, compared to the amount of onions you have. Add the following:
dash of Worcestershire sauce
dash of pepper
salt (a small amount the bullion cube is salty)

When it is all is heated and browned, stir the onions into the broth and heat it again to distribute the flavors. Heat the oven to 300 . Have glass oven-proof bowls ready. Spoon the onions and broth into the bowls. Place seasoned croutons, 8-10 in the soup. Place a shredded or a slice of Mozzarella cheese on top. Place it in the oven until the cheese melts or browns. Serve it immediately.

Editor s note: Onion soups have been popular at least as far back as Roman times. Throughout history, they were seen as food for poor people, as onions were plentiful and easy to grow. The modern version of this soup originates in Paris, France in the eighteenth century, made from beef broth, and caramelized onions.

Evidence of the existence of soup can be found as far back as about 20,000 BC. Boiling was not a common cooking technique until the discovery of waterproof containers, which probably came in the form of seashells or pottery.
| | |
| --- | --- |
| Golden cucumber relish | Sherry Smith Alstat |

12 large ripe cucumbers
12 onions (2-2 1/2 inches)
6 large sweet red peppers
2 bunches celery
3/4 cup coarse salt
4 cups sugar
1 quart white vinegar
2 tablespoons mustard seed

Peel the cucumbers, scoop out and discard the seeds* and centers, and dice them into 1/4 inch cubes. Dice the peeled onions to the same size. Add the salt and mix it well. Cover it and let it stand 10-12 hours, then place it in a white cloth and let it drain until it s quite dry. Dice the celery and peppers in 1/4 inch cubes.

Combine the vinegar, sugar, and mustard seeds in a large enameled kettle. Add the vegetables and cook it over low heat until the mixture is thick, and the cucumbers are golden colored. Process it for five minutes or cold pack. Makes 6 pints.

*Editor s note: rather than discarding the seeds, dry them and plant them in your yard next year. Personally, though, I don t like cucumbers at all unless they re pickled. But if you do like them, they re easy to grow. They are in the gourd family, Cucurbitaceae.

It is a creeping vine that roots in the ground and grows up trellises or other supporting frames.

There are three main varieties of cucumber: slicing, pickling, and seedless. Within these varieties, several cultivars have been created. In North America, the term wild cucumber refers to plants in the genera Echinocystis and Marah, but these are not closely related. The cucumber is originally from South Asia, but now grows on most continents. Many different types of cucumber are traded on the global market.
| | |
| --- | --- |
| All season relish | Sherry Smith Alstat |

12 green tomatoes
12 green peppers
12 sweet red peppers
2 medium onions

Grind all of the above ingredients and drain them for ten minutes. Add:
1 pint vinegar
4 tablespoons flour
1 tablespoon celery seed
1 pint mustard
2 tablespoons salt
3 cups sugar

Mix it well and cook it for ten minutes. Keep watch and stir it to keep it from sticking.

Add one pint of salad dressing and mix it together well. Put it into hot jars and seal them, using hot seals.

This is very good on hot dogs and other sandwiches.
| | |
| --- | --- |
| Pepper relish | Shirley Reeves |

12 green peppers
12 red peppers
6 medium onions
2 cups vinegar
2 cups sugar
1 tablespoon salt

Clean and chop the peppers and onions. Cover it with boiling water and let it stand for five minutes, then drain it. Mix the vinegar, salt, and sugar, and bring it to a boil. Add the peppers and onion and boil it for five minutes more. Put it in jars and seal them immediately. Makes five pints.
| | |
| --- | --- |
| Bread and butter pickles | Vicki Collins Barnes |

4 quarts unpared cucumbers, sliced thin
6 sliced medium white onions
3 cups white vinegar
1 green pepper, cut in strips (optional)
1 sweet red pepper, cut in strips
3 cloves crushed garlic
1/3 cup medium coarse salt
5 cups sugar
3 cups white vinegar
2 tablespoons mustard seed
1 1/2 teaspoons celery seed
1 1/2 teaspoons turmeric

Combine the vegetables, garlic, and salt. Cover them with ice cubes and mix them thor-oughly. Let it stand for three hours in the ice. Drain it well.

Combine the remaining ingredients and pour them over the vegetables. Bring it just to boiling. Seal it at once in hot sterilized jars. Makes eight pints.

No hot water bath is necessary when canning these pickles, as your pickles are hot and the jars and lids are also hot. Set them on a towel and they will seal, but if you are in doubt about their sealing, store them in the refrigerator. They are always better if chilled before serving.
| | |
| --- | --- |
| Kosher dill pickles | Judy Morgan Penrod |

4 quarts water
1 cup salt
2 cups vinegar
cucumbers
dill
1 clove garlic
3-4 grape leaves

Wash the cucumbers, fill the quart jars, and top them with 3-4 grape leaves in each, a bunch of dill, and a clove of garlic. Heat the liquids with salt, pour it over the cucumbers, and seal the jars. Season them 4-6 weeks before eating them.
| | |
| --- | --- |
| Old fashioned corn relish | Linda McVicker Russell |

1/4 cup sugar
1/2 cup vinegar
1/2 teaspoon salt
1/4 teaspoon Tabasco
1/2 teaspoon celery seed
1/4 teaspoon mustard seed
1 tablespoon chopped onion
12 ounces whole kernel corn
1 tablespoon chopped pimento
2 tablespoons chopped green pepper

Combine the sugar, vinegar, salt, Tabasco, celery seed, and mustard seed. Bring it to a boil and boil it for two minutes. Remove it from the heat, combine it with the other ingredients, put it in a container, and refrigerate it.

Editor s note: Corn relish is a traditional Southern United States family recipe, given as a garnish or side dish to the typically meat-and-potatoes dinner fare.
| | |
| --- | --- |
| Best ever kosher dill pickles | Clara Lenon Russell Submitted by Gladys Russel Morgan |
4 quarts water
12 ounces vinegar
12 ounces pickling salt
Pickling size cucumbers

Wash the cucumbers and pack them in quart jars, and add a clove of garlic, and dill weed or dill seed. Have some previously washed grape leaves and place 3-4 in each jar. Heat the liquid and salt to boiling. Pour it over the cumbers in the jars and seal them. Allow them about ten days to two weeks to cure.
| | |
| --- | --- |
| Pickled beets | Marie Lenon Kelley |

24 small beets
2 cups distilled white vinegar
1 cup granulated sugar
2 teaspoons salt
6 whole cloves
1 three inch cinnamon stick
2-3 medium (1/2 pound) sliced onions

Remove the beet tops, leaving one inch of stem and tap roots. Wash the beets and cook them in boiling water until they are tender. Drain them, retaining one cup of liquid. Peel and slice the beets.

Combine one cup of beet liquid, vinegar, sugar, salt and spices, tied in a cheese cloth bag in a saucepan. Heat it to boiling. Add the beets and onions and let it simmer for five minutes. Remove the spice bag and continue simmering while packing one clean, hot jar at a time. Fill them to within half an inch of the top, making sure that the vinegar solution covers the beets. Cap each jar at once. Process them for five minutes in a boiling water bath.

Makes four pints.
| | |
| --- | --- |
| Carrot relish | Angela Nichols Hill |
Clean one pound of carrots and steam them for 10-12 minutes. Cool and slice them. Add chopped green pepper and two ounces of drained pimentos. Add:
1/4 cup vinegar
1/2 cup sugar
4 tablespoons chopped onion

Dissolve three tablespoons of flour in the vinegar along with 1/4 cup of water. Place the carrots in a saucepan and add the green pepper, pimento, onion, three tablespoons of honey, 1/4 teaspoon dry mustard, 1/4 teaspoon of salt, and one teaspoon of celery salt. Add the sugar to the flour mixture and mix it all together and cook it on medium heat until it s bubbly, about three minutes. Serve it warm or chilled. Makes 2-3 cups.
| | |
| --- | --- |
| Spiced cranberry relish | Elinor (Lenon) David |

2 oranges, cut up with peel on and seeds removed
1 pound cranberries
2 cups sugar
2 cups water
2 cored and sliced apples
3/4 teaspoon cinnamon
1/2 teaspoon nutmeg
1/2 teaspoon allspice
1/4 teaspoon cloves
1/2 teaspoon anise seed

Combine all of the ingredients in a large pot and bring it to a boil. Lower the heat and cook it until all the berries are broken. Stir it often. Cool it slightly in the pot, then fill sterile jars. Use it with turkey, ham, or chicken.
| | |
| --- | --- |
| Pepper relish | Zona Bishop Lenon |

12 red peppers
12 green peppers
12 onions
2 cups cider vinegar
1/2 cup sugar
2 cups white syrup
3 tablespoons salt
1 tablespoon celery seed

Wash the peppers and onions and cut the peppers in halves. Remove the stem ends, seeds, and fibrous white parts. Peel the onions. Chop the peppers and onions medium fine or put them through a food chopper, using a coarse knife. Cover it with boiling water and let it stand for five minutes, then drain it well.

Combine this with the vinegar, sugar, white syrup, salt, and celery seed. Bring it to a boil, stirring constantly. Continue cooking ten minutes longer and pour it into hot sterilized jars and seal them immediately. Makes about 3-5 pints.
| | |
| --- | --- |
| Freezer pickles | Shirley Reeves |

4 cups sliced unpeeled cucumbers
2 cups sliced onions

Sprinkle four teaspoons of salt and two tablespoons of water over them and let it stand for two hours, then drain it. Do not rinse them. Stir one cup of sugar and 1/2 cup of vinegar (I like cider vinegar). Stir it until it s dissolved. Do not heat it. Pour it over the cucumbers and onions and freeze it. Makes two pints.
| | |
| --- | --- |
| Bread & butter pickles, mustard style | Zona Bishop Lenon |

1 dozen cucumbers
2 dozen onions
1 bunch celery
1/2 cup salt
water to cover all

Slice the cucumbers, onions, and celery and let it stand in salt water for three hours. Combine:
1 quart vinegar
3 cups sugar
1 small jar prepared mustard
1 1/2 tablespoons mustard seed
1 tablespoon turmeric powder

Let the spice, sugar, and vinegar come to a good boil. I add a little flour to thicken them just before I seal them.
| | |
| --- | --- |
| Cranberry Relish | Louemma Russell Smith |
Sort, wash, and drain one package of raw cranberries.

Select two apples and two oranges do not peel them. Grind them all coarsely.

Dissolve one package of raspberry gelatin in 1/2 cup of boiling water. Let it cool and add it to the cranberry-apple-orange mixture. Sweeten it to your taste. It s best if refrigerated overnight.

Editor s note: The illustration is Arthur Rothstein s Child Labor, Cranberry Bog, 1939, in the Brooklyn Museum.
| | |
| --- | --- |
| Bread & butter pickles | Louemma Russell Smith |

1/2 peck cucumbers*
4 white onions
3 red and 3 green peppers
3 pints vinegar
6 cups brown sugar
1/2 cup water
3 tablespoons celery seed
3 tablespoons mustard seed
3 tablespoons turmeric powder
1 teaspoon powdered alum

Peel and slice the cucumbers. Soak them in salt water overnight along with the onions which have been peeled and sliced. Boil the sugar, vinegar, and spices together. Add the onions and peppers and let them come to a boil. Boil for ten minutes and add the cucumbers, and boil five minutes longer. Seal them while they re hot.

This was a favorite recipe of my mother, Clara Lenon Russell, but was given to me by my aunt, Bernice Lenon Nichols.

*Editor s note: A peck is about 2.33 gallons, so you need a little over a gallon of cucumbers.
| | |
| --- | --- |
| Braunschweiger spread | Shirley Reeves |

8 ounces Braunschweiger
3 tablespoons pickle relish
3 tablespoons chopped celery
3 tablespoons chopped green pepper

Mix it with a dash of mustard and enough mayonnaise to spread on crackers or bread for sandwiches.
| | |
| --- | --- |
| Curry Dip | Judy Morgan Penrod |

2 cups mayonnaise
1 teaspoon garlic salt
1 teaspoon garlic powder
1 teaspoon horseradish
1 teaspoon grated onion

Combine all of the ingredients. Serve as dip for raw cut up vegetables, chips, or crackers.
| | |
| --- | --- |
| Rye Bread Dip | Rye Bread Dip |

1 1/2 cups mayonnaise
8 ounces sour cream
2 teaspoons parsley flakes
1 loaf unsliced round rye bread
2 teaspoons dill seed
2 teaspoons onion flakes
2 teaspoons dry ranch dressing mix

Mix all the ingredients well. Cut the top off of the loaf and pick the center out into bite size pieces. Pour the dip into the center of the loaves and surround them with bread pieces.